Name: Mountain HARD WEAR Mountain Rock Origin: United States Website: http://

Introduction:
Outdoor clothing, tents, sleeping bags series manufacturings high-end mountaineering, backpacking and camping tents,
Sleeping bags, outerwear and layering systems.
Speaking of MHW, this company has a lot to do with TNF. The sponsors of MHW are some of the original TNF employees. Its clothing and tent designers are the primary designers of original TNF. It is said that they were dissatisfied because they were dissatisfied with the policy of tactical management of TNF. I do not know whether the rumor is true, MHW's product quality is generally much better than TNF. MHW is more reasonable in product details, its quality is much more popular with users, and it is far ahead in product innovation and has become the leader in outdoor clothing.
Before 2001, sleeping bag products could only be selected between comfort and easy collection. Mountain Hardwear, as always, does not only follow the equation, and believes that there are always ways to combine these two features. As a result, the Quantum Expander was invented. The zipper design on the right side of the sleeping bag increased the expansion space up and down by 8 inches. At the same time, the weight remained almost unchanged. When the zipper is opened, the space and air flow of the sleeping bag are increased, making it more comfortable than other products in its class. When the zipper is pulled up, it becomes a warm and comfortable home. The user can choose between 600-fill power down or Polarguard 3D chemical fiber, each supervising the patented Conduit SLTM waterproof fabric. In addition to being more loved by users, Mountain Hardwear has once again received the enviable Backpacker "Editor's Choice".
In addition to innovations in Quantum sleeping bags, Mountain Hardwear has also made major breakthroughs in layered apparel technology and applied it to new products in 2001. The WindStopper N2S® film, which was jointly developed with Gore, replaces the concept of traditional layered clothing. The WindStopper N2STM film is completely windproof, plus the inner soft, quick-drying fabric makes the Transition series suitable for use throughout the year with varying temperature variations.

Mountain Hardwear began establishing good relationships with Peter Whittaker and Rainier Mountaineering, Inc (RMI) in 2001. RMI is recognized as the premier professional mountaineering instruction and teaching school in the United States. By demonstrating its unwavering confidence in RMI products, Mountain Hardwear has become the designated equipment and apparel supplier for all courses of RMI, and it has thus received the recognition of 80 professional coaches from the university to provide world-class climbing for them and their students. equipment.

Compared to other brands, Mountain Hardwear is able to demonstrate its unrestricted, innovative approach to designing products that lead the industry. In 2002, Mountain Performance, a brand new clothing line, used fast-drying clothes and tailor-made tailoring for a variety of activities such as trail running, rock climbing, mountain biking, hiking, and even outdoor activities.

Spring comes to autumn, year after year, immutable. Mountain Hardwear adds new members to the production line every season. And in the fall of 2002, a 3-Layer Conduit Recon coat, which was perhaps the most shockingly designed for the snow event, was added to the clothing. Functionally, the top of the arm is designed to be seamlessly affixed to the mouth of the bag and can be placed on the walkie-talkie; elastic fabrics are more convenient for activities, and the zipper is 100% waterproof. The three-tiered Gore-Tex XCR? FTX Mithral Parka is even more regarded as the strongest combat garment in the history of Mountain Hardwear, and is also designated for use by RMI. Another series of Epic stands for lightweight, waterproof and breathable. The surface is treated with Microporous technology to make it feel soft and silky. Ascent series also has a more lightweight but practical Vision Jacket on its production line. In addition, Alchemy's windproof thermal jacket brings new standards to traditional hardwearing jackets in terms of softness, stretchability, windproofness and air permeability.

Now Mountain Hardwear brings a warm and innovative attitude, presents a gift to the user with the tenth anniversary celebration, the world's first sleeping bag that incorporates seamless paste technology, and uses the waterproof Conduit SL® fabric—Spectre SL. It succeeded in defeating other opponents and won again Backpacker's "Editor's Choice" for Mountain Hardwear as a pioneer in all-weather ultralight tents using Cross Flow ventilation system. Get another city. For the first time, Synchro jackets are made of a strong and elastic hot-press strip on the waterproof surface layer, which makes this series of clothes represents a real breakthrough in the windproof warm jacket. With this innovative design, Synchro gets the largest outdoor sporting goods exhibition in Europe (ISPO). The ?A硗猓?d Vieturs boarded the Nanga Parbat on June 24th and then boarded Anna. The culmination of Purna will be able to accomplish feats - to conquer all the earth's peaks above 8,000 meters without the use of supplemental oxygen.

As the saying goes: Never change. In the past ten years, Mountain Hardwear has been implementing this sentence. Establishing an attitude based on change: enthusiasm, joy, courage, innovation and gratitude, and constantly developing more quality equipment, a broader production line, and more advanced production technologies, so that Mountain Hardwear will be in every decade of the future. Can continue to explore and innovate.

*Mountain Hardwear was founded in 1993. The product was introduced at the end of 1994 and the beginning of the year 95, so this year is also the 10th anniversary of Mountain Hardwear.
[1] [2] [3] [4] [5] [6]
Small Size Silicone Dog Bowls
1Silicone Collapsible Small Size Silicone Pet Bowl, dog food/water bowl - the ideal accessory for travelling, walking and on holiday with your dog.
2This small size Silicone Pet Bowl simply folds away and easily fits into your bag or rucksack. Microwave and dishwasher safe. 14 cm diameter. Comes in Random Colours.
3.Small size silicone pet bowl Safe to pet,FDA&LFGB&SGS safe Certification
4.Customzed logo and colors are highly welcomed
5.We have our factory Engineering department, we can help customzed OEM design come true.
6.Non-stick,nontoxic.Feature
Item Description
| | |
| --- | --- |
| Materail | 100% food grade silicone with FDA & LFGB(approved) small size silicone pet bowl |
| Product size | D10.5cm Folding High 1cm, Unfolding high 4.5cm |
| Weight | 57g |
| Color | Any colors are available |
| Packing | 1pc/polybag or custmozied |
| Logo | imprint, debossed or embossed as per customer's request |
| HS code | 392410 |
| Application | Used to hold food and can be used in Microwave |
| MOQ | 5000pcs |
| Payment Term | TT.30% as the deposit,and balance before shipping. |
| Temperature | -40 – 240° |
Small size silicone pet bowl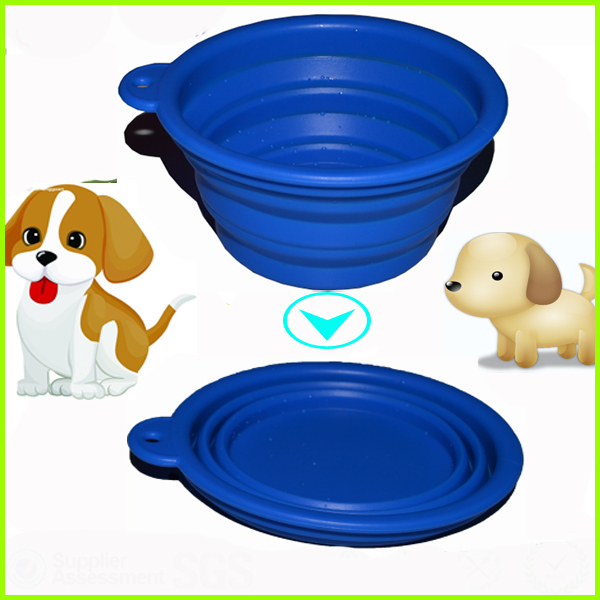 Small Size Silicone Pet Bowl
Small Size Silicone Pet Bowl,Silicone Pet Bowl,Pet Food Bowl,Dog Food Bowls
Shenzhen Feiaoda Technology Co.,Ltd , http://www.flysilicone.com